Fizz Rewards Program
One of the biggest reason people subscribe to Fizz is their "My Rewards" program.
The Fizz rewards program gives you the ability to climb levels through a points system and earn specific perks and rewards.
You can earn points by completing one of the following:
Participate in the Community Hub
Gift your mobile data to another fizz member
Refer a friend (or be referred by a friend when you sign up)
Also, you earn points for every dollar you spend with Fizz. So the longer you stay the more you'll earn.
And if you ask me, that's quite different from all the other carriers who don't really care if you've been with them for the past 10 years and offer better, cheaper plans to new subscribers only.
Quite frustrating if you ask me. That's why I love Fizz <3.
Fizz Perks
Perks are single used items that can be applied whenever you desire to your mobile or internet service. There's no limit to how many perks you can use at one time. You can choose to accumulate them and spread them out or use them all at once.
For example, Fizz might give you 500MB of mobile data valid for 30 days once activated, or a discount at one of their retail partners.
Consider that leftover mobile data from a perk won't be rolled over to the next month (like your regular data plan does).
Can I gift my perks to another Fizz member?
Yes. You can gift your perks to other fizz members (and earn more points). However, a perk cannot be regifted. It has to be activated and used.
Will my perks expire?
Yes. Each perk has his own different expire date delay so be careful. Use them or gift them before they expire.
I personally like to gift my perks away to earn a lot more points.
To apply a perk on your plan:
Log into your account, and go to Overview.
In the left column, click on the summary that shows your My Rewards level. You can also scroll down below your usage summary to My Rewards and click on See details.
In the perks section, click on Available.
Click on the perk you'd like to activate.
Select Use to activate the perk on your plan, or Gift to gift it to another Fizz member (whom you'll have added to your Fizz contacts beforehand).
If you decided to use your perk yourself, select the plan on which you'd like to apply it.
Your perk will be activated on the spot.
Fizz Rewards 
Rewards are long-term bonuses that boosts your plan every month, like discounts on your current plan or additional data.
Each Fizz Plan has 3 rewards slots on which an upgrade can be applied. Every upgrade is valid for two years starting from the date you earned it, whether you apply it to your plan or not.
Here's a full descriptive table of Fizz points & rewards system:
Level
Points
Mobile
Internet
Slots
1
0
250 MB
$1 discount
1 Slot
2
1500
500 MB
$2 discount
3
4500
250 MB
$1 discount
2nd Slot
4
9000
200 MB
$1 discount
$1 discount
5
15000
250 MB
$2 discount
3rd Slot
6
22500
500 MB
$2 discount
7
31500
$1 discount
$2 discount
8
42000
1 Go
$1 discount
9
54000
$1 discount
$3 discount
10
67500
$1 discount
$2 discount
Can I gift my upgrades to another Fizz member?
Your upgrades are yours, and yours alone. You cannot gift your upgrades to another Fizz member.
Will the unused data from the upgrades roll over to the next month?
Yes, if you activate a mobile data upgrade and don't use all its data within a payment cycle, all the unused data will be rolled over to the next month.
For example, if you receive a 500 MB upgrade to your existing 1 GB plan and use only 1GB during a payment cycle, 500 MB will be rolled over to the next month, giving you 2 GB available for the next month. (1 GB base plan, 500 MB upgrade, 500 MB rolled over data).
To apply an upgrade on your plan:
Log into your account, and go to Overview.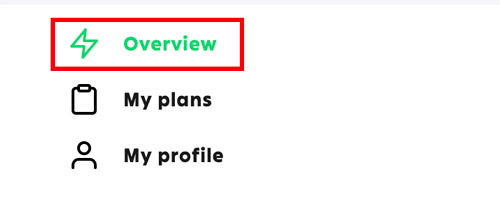 Scroll down to the section panel intitled "My Rewards Program" and click on "See Details"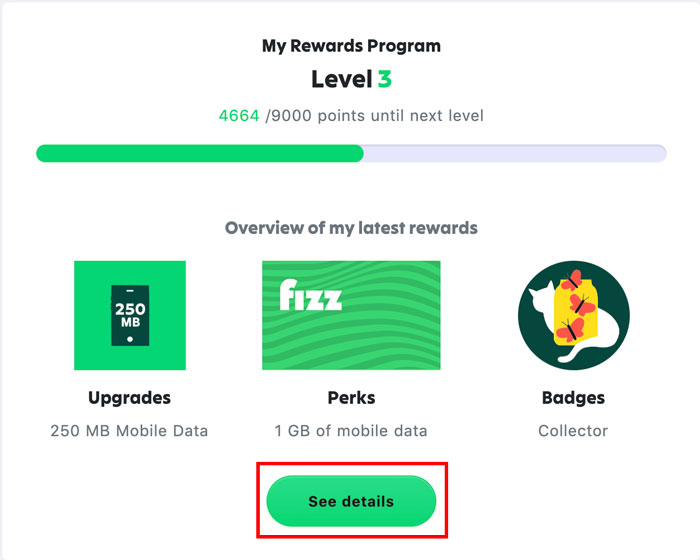 To apply or replace an upgrade to an empty slot, simply click on the empty slot and choose whichever upgrade you want to apply.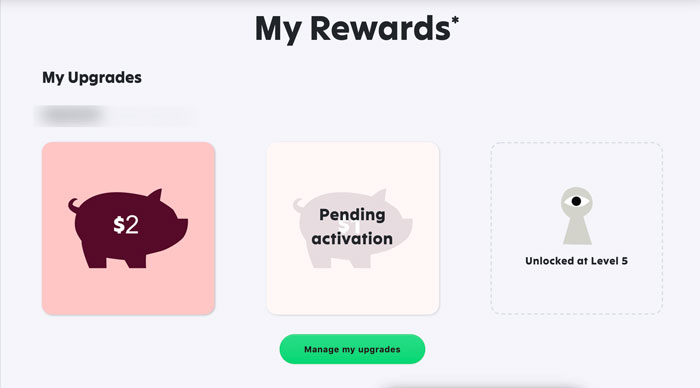 The upgrade will be applied only on your next payment cycle.